Who We Are
We are a technology commercializer focused on retail, food, and pharmacy innovation.
We curate early to mid-stage tech companies and combine them with large corporations because we believe the future can be made better, together.
What We Do
Our business development team works diligently with large enterprises to understand what problems they currently face, what capabilities they wish they had, and where they want to go in the future.
Our research team finds and evaluates the most promising technology companies in the world. After an extensive vetting process, we bring companies into the i2i ecosystem for exposure. We have a proprietary scoring framework that allows us to compare solutions against each other objectively.
The lab in Northwest Arkansas serves as a physical destination for enterprises to see live demos of technology solutions being represented by i2i. We want to reduce a lot of the "smoke-and-mirrors" scenarios that surface when relying solely on PowerPoints and video conferencing sessions.
The i2i team has worked in corporate innovation for many years, and we know how overwhelming large companies can be. Because of that, we are in the room with the tech companies we represent during initial meetings, PoC discussions, and any other time you need us.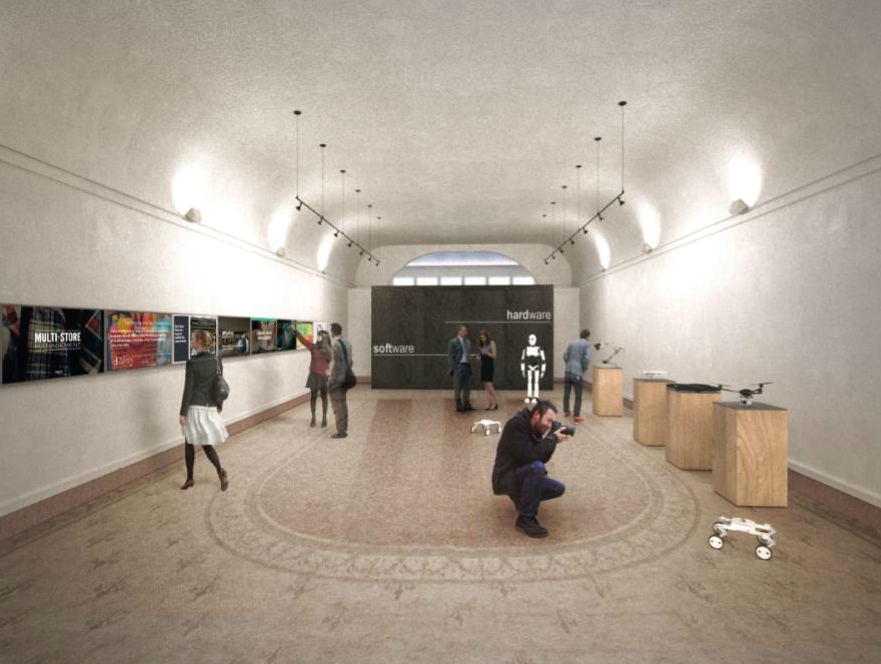 Problems
Finding the right people to talk to within an enterprise is hard. The process is overwhelming and I have no idea where to start

It's very difficult for startups to work with large corporations, and it's equally as difficult for corporations to work with startups. It's like we don't even speak the same language

We've tried to pitch to corporates before, but they are slow to move and the conversation just dies
Solutions
Since our corporate partners are part of a membership platform, we have direct contact with stakeholders inside the companies

Our team has spent years on both sides of the table. We understand how to foster external innovation inside enterprises because we've lived it

As part of our business development process, we meet with the enterprise customers to understand problems they're looking to address right now. That means they'll be waiting with open arms to hear from you
Where We Focus
Our main verticals consist of retail, food, and pharmacy technology. We are routinely adding verticals - and changing the amount of attention towards each one - based on the market and the needs of our customers.
FAQ
How does this process work?
We are always looking for groundbreaking technology that is solving real needs in the market. Once we connect with you and receive your answers to our Technology Database Questionnaire, we create a 1-pager. That 1-pager is then posted in the Portfolio Database area on the i2i Labs website. Our enterprise customers have access to this database, and they scan it to see if we have a tech that could meet their needs. It is 100% free to be hosted in this database; we just request the questionnaire be filled out so we have the correct information that many corporations ask to see.
Once we have enterprises show interest in your solution, we ask to bring you inside the physical i2i Labs space. Our showcase facility allows us to give live demos to these executives at any time. The i2i team learns your demo and becomes an expert in your product, so we don't require you to have anyone onsite.
We will keep your team engaged so you know the companies that are seeing your solution, and we'll make sure to bring you into the conversation when we get questions we can't answer. Once an enterprise decides to move forward with your tech, we turn the conversation back over to your team to start the normal on-boarding process. We'll continue to help guide the conversation since the tech company/corporate relationship can sometimes be a tough one.
How much does it cost?
We like to get multiple corporate stakeholders inside our facility to view your tech. Therefore, we rely on your team to help us get a demo up and running. Our relationship with each tech company differs based on use cases and level of engagement. If your solution moves forward with an enterprise customer, we negotiate a small percentage of the contract (not a percentage of your total company).
What does the partnership program get me?
We don't want to take a percentage of your company right off the bat. To compensate for that, the partnership program allows us to connect you with real leads while making sure we are dealing with tech companies who are serious about what they do. The i2i team will become an expert in your product, and as we travel to events across the world (TechCrunch Disrupt, Shoptalk, CES, and other industry events), we will be like an extension of your team, pitching your solution in various settings.
Our team's success rate of getting products to a test is close to 50%. We have worked inside some of the largest companies in the world, so we know how they operate, and what they are looking for in a partnership. We will help you craft a compelling presentation that gets stakeholders interested in your solution.
A partnership also gets you and your team full access to the physical i2i Labs space in Northwest Arkansas. This area serves as a place to run live demos for 20-30 technologies at any given time. This is compelling for our corporate partners because they can make great use of their time by seeing multiple solutions operating in a single setting. We also have a conference room with lounge space for you to have meetings in.
Finally, we have developed a robust network of professional service partners. i2i Labs portfolio companies get access to these services through our platform. So when you need to scale your team and hire new talent, you can get an exclusive tech recruiting package from a national staffing firm. Or if you have hardware that gets deployed around the country, we can connect you with global IT field support services. To increase the value of your partnership, we are continually adding new components to the i2i ecosystem.
We already have a sales team. So we don't need you, right?
Our goal isn't to replace your sales employees; it's to make their lives easier. We won't reach out to you until we have a lead from a corporation looking for a solution that falls in line with your business. We will help guide the process to get your technology to a test; then it's up to your team to close the deal! Also, since every company we represent is loaded into our tech database, we will refer your product to additional enterprises as new members sign up.
Why are you in Arkansas, and do we have to come there?
Northwest Arkansas (NWA) has a rich history of fueling enterprise growth through innovation. Over 25% of Fortune 500 companies have a presence in NWA, with three (Walmart, JB Hunt, and Tyson Foods) being headquartered here. In total, there are over 1,400 companies in the region directly related to retail and supply chain!
NWA has a burgeoning technology ecosystem that is home to many tech companies with a national presence. Companies like Rockfish Interactive, RevUnit, Field Agent, Collective Bias, Lineus Medical, Y Combinator graduate DataRank, Acumen Brands, and more were founded here. A mix of public and private partnerships like the NWA Venture Team, Natural State Angles Association, Innovate Arkansas, AR Girls Who Code, and Startup Junkie has helped NWA become one of the best places in the country to launch a startup.
We offer virtual demos and have full video conferencing capabilities, so we don't require that you come to NWA, but we do encourage you to come check it out at least once. We will also be sponsoring events throughout the year like design thinking workshops, venture capital pitch days, and networking opportunities to make your partnership even more valuable. The Northwest Arkansas Regional Airport (XNA) offers direct flights from over 14 major cities like San Francisco, LA, Denver, Dallas, Chicago, New York, and Atlanta.